The Oberseminar of the database group took place from May 23th to May 26th, 2023 in Darlingerode (Harz). 
Talks
(Knowledge) Graphs
Steven Lehmann: Link Prediction in Human Resource Management (bachelor thesis)
Adrian Kuhn: Metadata Enrichment in the DBpedia Databus Ecosystem (bachelor thesis)
Daniel Obraczka: Blocking for Knowledge Graphs
Mouna Ammar: Self introduction
Marvin Hover: Constructing, Benchmarking and Accessing (Domain)-Specific Knowledge Graphs
Andre Wille: Temporal Graph Heatmap (bachelor thesis)
Karim Rakia: Exchange of the Dataset API of Gradoop (bachelor thesis)
Privacy & Security
Maximilian Heykeroth: Dataset Analysis for PPML (bachelor thesis)
Lucas Lange: Recent Work in PPML
Maja Schneider: Federated sharing of location data
Manh Le Dac: Extension of Frost/Snowman for tag-based linkage result analysis (bachelor thesis)
Florens Rohde: Multi-Stage Active Learning for PPRL
Physics-informed Machine Learning
Benjamin Uhrich: Physics-informed Machine Learning in Complex Systems
Life Science
Julius Ellermann: Data augmentation to predict dceMRI breast cancer images (bachelor thesis)
Marie-Sophie von Braun: Tissue outcome prediction in acute ischemic stroke based on multimodal CT imaging
Dusan Prasevic: Self introduction
Christian Martin: Life Science and Medicine Topics at ScaDS.AI
Schedule
See Moodle course for details.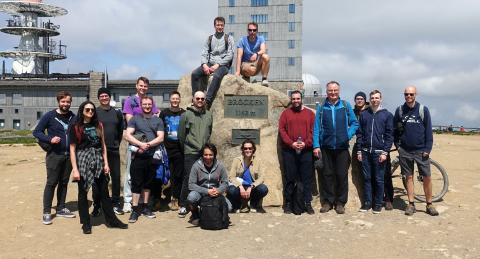 v.r.n.l: Christopher Rost, Andre Wille, Florens Rohde, Prof. Dr. Erhard Rahm, Karim Rakia, Christian Martin (oben), Julius Ellermann (oben), Marie-Sophie von Braun, Victor Christen, Daniel Obraczka, Lucas Lange, Adrian Kuhn, Maximilian Heykeroth, Marvin Hofer, Mouna Ammar, Martin Franke.
Semester