Description
The new research project "ELISA - Evolution of Semantic Annotations" is a collaborative project between the Luxembourg Institute of Science and Technology (LIST), the University of Paris-Sud, and the Database Group, Universität Leipzig. ELISA is granted by the German Research Foundation (DFG) and the National Research Fund Luxembourg (FNR). The project aims at the development and evaluation of new methods for creating and maintaining semantic annotations.
Project Objectives:
The use of ontologies has shown great possibilities to tackle semantic interoperability issues in the medical domain. Often ontology elements are used to annotate information in order to make their semantics explicit for machines and to facilitate the retrieval of the annotated information. However, the medical domain is highly dynamic by nature. Since 50% of the knowledge of this field is renewed every 10 years, the content of ontologies, representing this knowledge, has to smoothly follow the evolution of the domain to remain exploitable by underlying software applications. As a consequence, the modifications made in these ontologies must also be propagated to all elements that depend on them, such as ontology-based semantic annotations.
In this context, ELISA will develop innovative concepts and tools to:
understand the quality of annotations through manual and automatic annotation processes,
identify and characterize the evolution occurring in ontologies, and
exploit this information to define algorithms to maintain semantic annotations affected by ontology evolution.
Two cases will be distinguished:
direct migration of the annotation in the case where those are modifiable, and
an ad-hoc migration process in the case where annotations are not modifiable. This will be done through the design of a query enrichment mechanism reflecting the evolution of ontology in order to keep annotated data searchable over time.
The proposed technology will help companies in managing the ever-increasing quantity of data they have to deal with. Moreover, it will be implemented in two real cases borrowed from the field of life sciences. First, we plan to apply our maintenance approach to annotations that serve to enrich patient data in the Luxembourgish national health platform. Second, we will investigate the semantic annotation maintenance problem that arises from the annotation of Case Report Forms used in clinical trial research.
Project Overview

DFG: ELISA - Evolution of Semantic Annotations - Grant RA 497/22-1
Partner
The website of ELISA project in LIST (ELISA in LIST)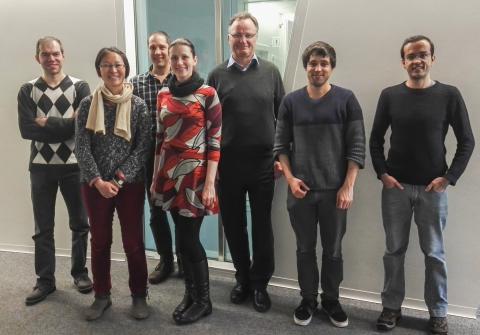 (Dr. Cédric Pruski, Ying-Chi Lin, Dr. Marcos Da Silveira, Dr. Anika Groß, Prof. Dr. Erhard Rahm, Victor Christen, Silvio Domingos Cardoso)
Awards
We are happy to announce that our most recent paper of the project has won the Best Paper Award in the HEALTHINF 2021. Please see the announcement here: